Residential Heating and Cooling
At Reid Brothers, we take pride in our custom designed heating and cooling systems. We can tailor a system to each existing home which will meet individual customer's budgets, energy savings expectations, and comfort requirements. Whether your system is forced air or hot water, our design team is highly skilled and highly motivated to meet your needs. To schedule an estimate or for more information, please contact us.
Our commitment to quality and on-time service is our priority. Service calls are scheduled in advance as much as possible to ensure punctuality of our visits while still allowing time for the "emergency" situations that arise from time to time.
Our service team attends regular training sessions in order to keep up with the latest technology, materials and techniques. Besides the technician who actually does the repair, we have highly competent and experienced field supervisors who, although you may never see, provide valuable backup to the technician. So, should a second opinion ever be required about a technical question, you don't have to worry because the technician has highly qualified expertise to bring to each call.
IBC installation - October 2010
2 IBC VFC15-150s
Our Products:

- Hot Water Heating

- IBC

- Viessmann

- Bradford White

- Forced Air Heating/ Cooling

- Trane

- Honeywell

- Which System do I have?

- Hot Water Tanks

- Navien

- Bradford White

- Rinnai

- Plumbing

- Faucets

- Plumbing Fixtures

- Sinks
Hot Water Heating


Modulating and Condensing Boiler
IBC is an industry leader with their Modulating and Condensing Boiler. The ultimate in energy efficiency!
Click here to visit the IBC website (check the Testimonials page)
View: VFC 15-50 Brochure VFC 45-225 Brochure SL 80-399 Brochure
Owner's Manual: VFC15-50, 45-225, 45-225-SL, SL80-399

Air Handlers
A major advantage to using an IBC boiler with IBC air handlers, is that when the water temperature is lowered far enough, the boiler has the ability to modulate the fan speed in concert, avoiding the sensation of blowing cool air on the occupants. This strategy results in a more comfortable heating system, and saves energy on a number of fronts.
View: Spec sheet

Indirect fired Water Heaters
IBC Indirect fired water heaters use the hot water from an IBC boiler, diverted through a closed-loop heat exchanger coil in the tank, to heat incoming domestic hot water.
View: Spec sheet



Condensate Neutralization Tank
The NT20 is ideal for neutralizing condensate from condensing boilers or furnaces. The condensate is acidic and has the potential to harm the environment and the sewer system. The NT20 will neutralize the condensate to a neutral pH level before it is discharged to drain.
View: Brochure
---

.
Viessmann offers a complete range of high-tech, state-of-the-art heating products, each a design-matched component in the progressive Viessmann system technology.
Wall Mounted Condensing Boiler
The Vitodens boiler is a natural gas-fired wall-mounted condensing boiler with modulating stainless steel cylinder burner and Inox-Radial heat exchanger surface.
View Brochure
Gas-Fired Boiler
The Vitogas boiler is an atmospheric gas-fired hot water heating boiler in a sectional cast iron design.
View: Vitogas 50 BrochureVitogas 100 BrochureVitola 200 Brochure


.
Bradford White / Aeroso Indirect Water Heaters
Adding an indirect fired hot water tank to either of the above boilers, or to your existing boiler can further add to energy savings!!
View Brochure
---
Forced Air Heating / Cooling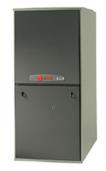 Furnaces
Every Trane furnace is packed with high-quality components. Each helps ensure that time after time, your unit will provide total comfort your family can rely on.
High-Efficient - The Trane XV95 furnace is rated with up to 96%+ AFUE. Its variable speed fan motor adjusts speed to provide a consistent flow of air allowing for optimal comfort and air filtration.
more information
Compare Trane Furnaces
---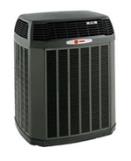 Heat Pumps
Imagine 12 months of comfort - from the hottest days to the coldest nights, total and complete, care-free comfort. That's what a Trane heat pump system gives you every day of the year, because it's designed to cool your home in the summer and heat it during the winter.
The XL 16i's SEER rating of up to 17.00 and HSPF of 9.2 make it an energy efficient choice for home comfort. It's increased efficiency may substantially lower your home heating and cooling cost. It's two stages of cooling meet any outdoor climate conditions and prevent interior temperature swings.
more information
The XL15i's SEER rating of up to 16.00 and HSPF of up to 9.0 make it an energy efficient choice for home comfort.
more information
Compare Trane Heat Pumps
Air Conditioning
Today's air conditioners are more comfortable and efficient then ever. Whatever size your home, whenever you need cool, comfortable, cleaner air, we're dedicated to providing the very best investment you can make in ensuring the comfort of you and your family.
Compare Trane Air Conditioners




Air Quality FiltrationAdd a Trane Air Cleaner to your system for filtering that removes more dust, pollen and other irritants throughout your entire home for a cleaner, healthier, more comfortable home.
more information
---

Thermostats
A thermostat's job is to control the set temperature in your home. It sounds simple, right? Yet, not all thermostats are created equal. Many thermostats available today read one temperature, but control to another. They can swing above and below your set temperature up to 6 degrees, resulting in discomfort for you and your family.
BESTVision Pro 8000: VisionPRO® is our touchscreen programmable thermostat. Technology and common sense combine to make it the most effortless programmable thermostat ever. View Owner's Manual
BETTERFocus Pro 6000: FocusPRO® thermostats are simple to use and offer an abundance of features at a great value. A large, backlit display makes FocusPRO® easy-to-see and use. View Owner's Manual
GOODFocus 5000: PRO thermostats offer you solid performance and accuracy at a great value. Backlighting, system switches and soft control keys are standard. View Owner's Manual
Heat Recovery Ventilators
Honeywell offers several solutions for bringing fresh air into your home while helping you maintain energy efficiency. Ask Reid Brothers whether an Energy Recovery Ventilator (ERV) or Heat Recovery Ventilator (HRV) would be right for you. Both have the capability to bring fresh air into the entire home in an energy-efficient and cost-effective way, since they can recover up to 80% of the heating and cooling energy from the air exchanged in the ventilation system.
more information
Filters
If you currently have a standard, 1" media filter mounted in your furnace, upgrade now to a Honeywell Whole-House Media Air Cleaner. It's up to 40 times more efficient than traditional 1" filters at removing airborne dust, pollen and other contaminants. Media air cleaners maintain high airflow in your heating and cooling system so it functions at full efficiency.
more information
Domestic Hot Water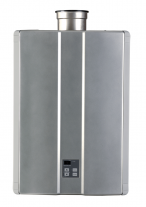 Tankless Hot Water Heaters
You don't use hot water 24 hours a day. But, you're paying to heat water 24 hours a day. With a standard water heater, you heat and reheat the same water even when you're sleeping. The Rinnai tankless water heater is a more efficient way to heat water. It heats water quickly and delivers an endless supply of hot water for as long as you need it. With the Rinnai tankless water heater, you only pay to heat water when you need it and for as long as you want it.
View: Brochure 1, Brochure 2
---
Condensing Tankless Hot Water Heaters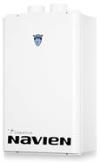 MORE SOON
---
Gas/Electric Hot Water Heaters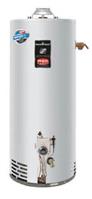 Bradford White offers a wide array of both natural and LP gas-powered water heaters for residential use. These durable products provide years of dependable service and are designed to give you more hot water for the money.
View: Brochure
Top of Page