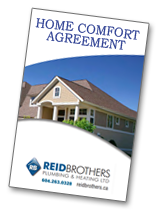 Click here
to enroll now
Home Comfort Agreement
REID BROTHERS' Home Comfort Agreement includes the following:
Annually scheduled safety inspections for each piece of equipment offered
Priority 24-7 emergency service as required
10% discount on all repairs
Manufacturer's warranty support
Preferred customer status
Equipment reports
The Smart Choice:
Protect your limited warranty: regular maintenance is a condition for most manufacturers' warranties.
The equipment will be serviced during regular business hours and ideally in the months of February through September.
More Choices: make informative decisions on when to upgrade your equipment and avoid high repair bills.
Save Energy – Save Money. Regular maintenance guarantees better efficiency.
We Offer Our Clients:
Computerized records that support warranty claims and offer a history of other repairs.
An extensive parts warehouse for faster repairs.
A human voice when you call and a dispatch department with GPS monitoring, so you know when we will be there.
A team that has the depth to bring you the plumbing, heating and cooling solutions you need.
Heating Equipment Service and Safety Inspection Includes:
Check and confirm thermostat program settings
Supply and install new batteries as required
Clean and adjust burner assembly
Clean and adjust ignition assembly
Adjust gas pressure as required
Confirm combustion air flow
Inspect and confirm combustion safety
Confirm flow and draft through heat exchanger
Test and confirm all safety controls
Secure electrical connections as required
Lubricate all moving parts as required
Inspect and confirm all temperature and pressure settings
Confirm appliance to be in safe and satisfactory condition
Confirm manufacturer's installation guidelines
Note: If your appliance requires an additional repair at the time of inspection the additional repair will be quoted. Such items may include but are not limited to the replacement of furnace filters, thermocouples, and batteries for programmable thermostats and gas fireplace remotes.
Our technicians are trained to the following equipment:
Furnaces
Central and ductless air conditioning
High velocity air conditioning
Boilers
In-floor radiant heating
Conventional water heaters
Tank-less water heaters
Gas fireplaces
Air cleaners and purifiers
Heat recovery ventilators (HRV's)
Pool boilers
Sump and sewage pumps
Back flow prevention devices
Is there a cost to join? A $40 refundable prepayment for annual service will formalize Reid Brothers commitment to fulfill the HCA benefits as outlined above.

Click here to enroll now.